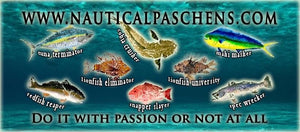 What kind of fisherman are you passionate about being?
Cobia Crusher - Flounder Pounder
Lionfish Eliminator - Mahi Masher
Redfish Reaper - Snapper Slayer
Spec Wrecker - Tuna Terminator
For the love of the sea...
We are committed to documenting as many species from our gulf and global waters as possible to create a complete collection of the great biodiversity that comes from wondrous our Mother Ocean.
Fast forward from 2007, we currently have 22 species from the northern Gulf of Mexico printed,  all of which have been locally harvested with sustainable fishing methods by myself & anglers just like you.
Like our Facebook & Instagram pages to stay in the know about exciting new products coming to a store near you!

We hope to see you all out on the gulf creating memories to last a lifetime.


Fair Winds & Tight Lines!